Celebrating the Success of the 2020 Gala!
The 2020 Catholic Foundation Gala, held on February 1, 2020 brought together 500 faithfuls of the Diocese of St. Petersburg, who gathered to bring ministry to life with their presence, prayers and generosity. Long viewed as the signature event of the Diocese of St. Petersburg, the 16th annual gala inspired attendees with faith-filled speakers, scholarship presentations and musical performances. The event culminated with a live auction and a special appeal to raise funds for tuition assistance as well as another focus this year – our mutually shared vision of Courageously Living the Gospel.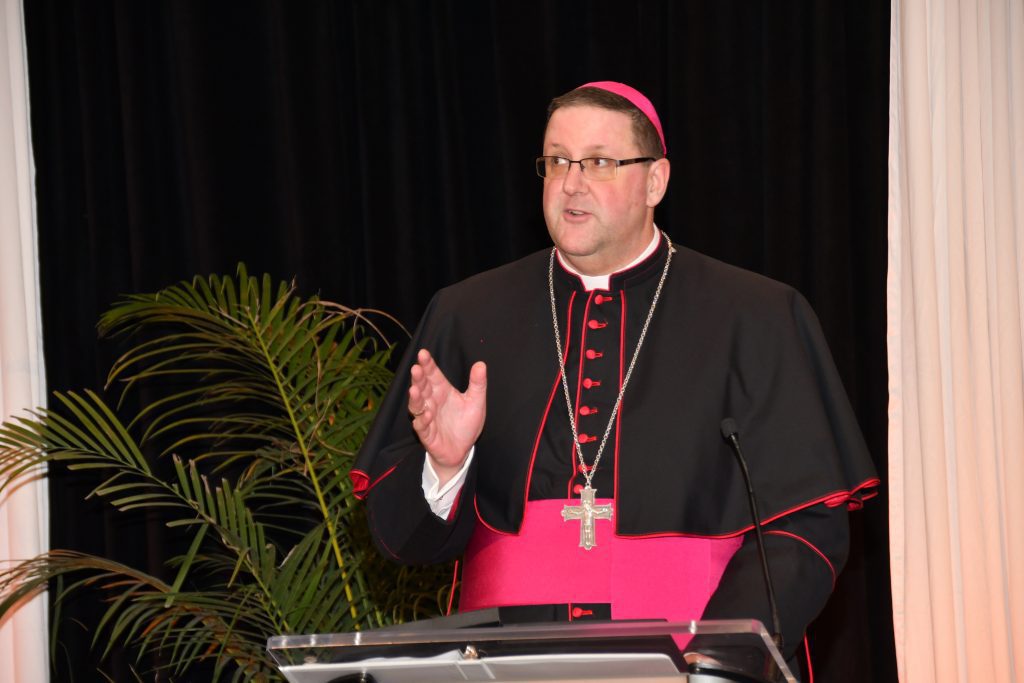 "Our Catholic schools present an evangelizing environment for all who are involved, from administration and staff to families, and tuition assistance remains at the top of our list for this event. But now, I ask you to journey with us as we push past our limits. Let's stretch the limits of what we can accomplish," said Bishop Gregory Parkes during his remarks.
The keynote speaker of the evening, Catholic astronaut Dr. Thomas Jones, spoke about his faith and his stellar career, participating in four space shuttle missions to Earth's orbit and leading 3 spacewalks. Dr. Jones is among the first Catholic astronauts to receive Holy Communion in space.
"My faith in God gave me the courage to succeed in space," said Dr. Jones.
The emcee for the evening was former NewsChannel 8 anchor Yolanda Fernandez, an icon in our community. Fernandez is active in her faith and attended local Catholic schools. She invited the audience to seize the moment and change lives with their support.
"We have a chance to make a difference to those seeking a Catholic education. We can serve the poor through affordable housing efforts, support our youth and young adults throughout our five-county diocese and support efforts that spread the Good News," said Fernandez.
During the event, Our Lady of Lourdes Catholic School gave a musical performance showcasing the school's highly regarded violin program. In addition, Dr. Jeffrey Senese, president of Saint Leo University, presented scholarships to three students who wrote winning essays on "What a Catholic Education Means to Me." Emersen Torres of Mother Teresa Catholic School in Lutz, won first place and received a $10,000 scholarship to attend the diocesan high school of her choice.
"We are working to build legacies. Proceeds from this event have helped thousands of students afford a Catholic school education. Tonight, our Board is excited to expand our focus and help forge new legacies for our Church," said Schellman.
If you are interested in leaving a legacy with the Foundation, please complete the form.
To learn more about supporting the Gala, click here.