Gift Giving Advantages to Not-For-Profits at Year-End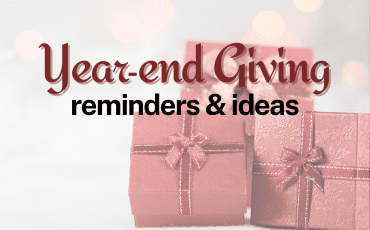 There are many advantages to making a gift to a not-for-profit at year-end, and gifts to parishes, our Catholic ministries and diocesan Church qualify. For those interested in making a year-end gift through an IRA, a donor-advised or giving stock, please contact the Office of Stewardship and Development at stewardship@dosp.org. For those wanting to explore opening a Catholic Foundation Donor-Advised Fund, please visit cfdaf.org.
To assist in getting the word out, promoting generosity and/or new, creative options for giving with parishioners, the Catholic Foundation has created camera ready, downloadable materials and drafted text for message development for parishes. The new Parish Resource Page is live and the following materials are available for download:
target audience postcards
bulletin inserts and articles
text for article, pulpit and web news post development
social media graphics
graphic elements
information on the new Donor-Advised Fund
If you have any questions, please contact the Catholic Foundation at foundation@dosp.org or call 727-374-0220.