Dr. Lois Locey, D.Min., M.P.A.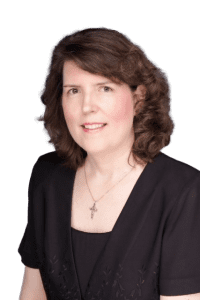 Chancellor for Administration and Chief Operating Officer for the Diocese of St. Petersburg
Lois brings a wealth of experience, a legacy of innovation, and a deep commitment to Jesus Christ and the Catholic Church. She has served as Adjunct Professor for the Center for Church Management at Villanova University, Chancellor for the Catholic Diocese of Sacramento, and Pastoral Associate for Administration and Stewardship at St. Mary Magdalen Parish, Altamonte Springs, Florida. In 2017, Lois earned a Doctor of Ministry from The Catholic University of America with an emphasis on Pastoral Leadership, Church Growth, Stewardship and Increasing Ministry Effectiveness. She has also earned a Master of Arts in Pastoral Ministry from the Gonzaga University and University of Portland Joint Program, and a Master of Public Administration from the University of Washington, along with a Bachelor of Arts in Political Science from Loyola University, Chicago, and numerous certifications. She has more than two decades of diocesan leadership experience in a variety of staff positions and has assisted with the professional development of bishops, priests, deacons, religious staff and lay leaders in the U.S., Australia, the Caribbean and around the world. Her leadership in stewardship and development has been recognized with multiple awards from the International Catholic Stewardship Council. Lois is actively involved in her faith community and supports the work of Mother Teresa's Missionaries of Charity. She has been happily married to her husband, Jerry, for 24 years.